OCTOBER 14TH AND 15TH ANNUAL HALLOWEEN PARTY!!
WSP MX with NEMX, NCSC and Wareham MX


Saturday, October 14th
2:00pm Free Practice Round for Sunday's racers
20 min - 1 per rider (must be signed up for Sunday)
Fall Finale Festivaties Saturday Night
Pumpkin Carving Contest, BYOP (winner announced Sunday)
1st Place - 2018 WSP Membership
2nd Place - Race Entry
3rd Place - WSP T-shirt
4:30pm Chili Contest (winner announced Sunday)
1st Place - 4 pack of Banquet Tickets
2nd Place - Race Entry
3rd Place - WSP T-shirt
5:00pm Pot Luck Dinner (bring a dish & share)
6:30pm Halloween Parade and Trick-or-Treat
(dress up and adults bring candy)
Followed by:
Games and Bonfire to finish off the night!!

Sunday, October 15th
Round 9 Fall Series
WSP MX with NEMX,
NCSC and Wareham MX

Gates Open Saturday October 14th from 11:00am-10:00pm
Sunday October 15th at 6:00am
Gate Fees: $15 for Adults and Racers, 6 and Under (non-racers) free
Seniors and Winchester Residents $5

Sign ups Saturday 11:30am to 3:00pm
Sunday 7am to 9am
Sunday Practice starts at 9am

$35 for the first 2 classes $20 for each additional class
Transponder Rental $10 per day with CC or $200 cash collateral
No One Day Fee All are Welcome!!!
No charge for mechanics pass

Schedule C

Contingency From:
KTM HUS HON SUZ YAM
No registration required for non Massachusetts residents at Capeway
Our request for Exemption for non-resident OHV registrations for Sanctioned Race Events for the remainder of the 2017 Season has been Granted by the Massachusetts Environmental Police
Capeway Rovers M/C & NCSC are using MyLaps Transponders for the 2017 Season

All Riders must use a MyLaps Transponder

The Transponder needs to be registered and
charged prior to the event.
Make Sure you Charge
Your Transponder

MyLaps Transponders may be Purchased or Rented
To Rent a Transponder the Rental will be $10 with
Drivers License & Credit Card as Deposit
plus $10 for Each Holder Needed

You may also go to MyLaps yourself and purchase
a Transponder for $103.74 Plus Shipping

Extra X2 Transponder Holders will be
available at the Track for $10 Each

If you already own a Transponder make sure your
Subscription is current and your Transponder is Charged

MyLaps Transponders may be Purchased or Rented
To Rent a Transponder the Rental will be $10 with
Drivers License & Credit Card as Deposit
plus $10 for Each Holder Needed

To Purchase a MyLaps Transponder NCSC has them
The Transponder needs to be registered and
charged prior to the event.
If you email me your credit or debit card #
with expiration and 3 digit on back today!!! I will mail it to you. total charge
$100.00 per transponder no shipping charge.

You may also go to MyLaps yourself and purchase
a Transponder for $103.74 Plus Shipping

Extra X2 Transponder Holders will be
available at the Track for $10 Each

If you already own a Transponder make sure your
Subscription is current and your Transponder is Charged
Follow us on Facebook
Stop by the track page on Facebook for photos of the new track changes, it's all right here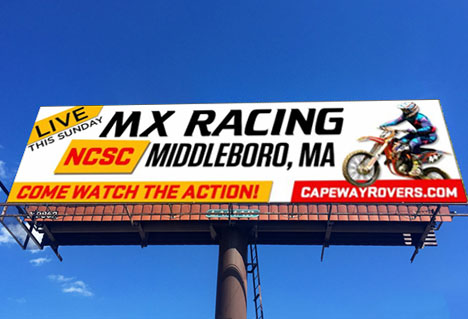 New billboard for Capeway!
Capeway Rovers & NCSC Invites you to Check out the New Billboard which will be on Display 1 week prior to each Event on the North Bound side of Route 24 between Route 106 & Route 123
Transponder scoring comes to Capeway!
Capeway Rovers M/C & NCSC are proud to announce the inclusion of MyLaps Transponders for the 2017 Season
All Riders must use a MyLaps Transponder to Race the 1st Event on March 26th
MyLaps Transponders may be Purchased or Rented
To Rent a Transponder the Rental will be $10 with Drivers License & Credit Card as Deposit
Plus $10 for Each Holder Needed, the Holder will last you for years
To Purchase a MyLaps Transponder NCSC has them for Sale for $100 including a 1 year Subscription
If you Intend to Purchase them from NCSC please email David so we'll have Enough on Hand
You may also go to MyLaps yourself and purchase a Transponder for $103.74 Plus Shipping
Extra X2 Transponder Holders will be available at the Track for $10 Each
If you already own a Transponder make sure your Subscription is current and your Transponder is Charged


2017 Classes
*New
50 4-6
50 7-8*
50 Open 4-9
65 7-9*
65 10-11*
65 Open 7-12
85 9-11*
85 12-15*
Supermini 9-16*
Youth C 18 & Under
Youth A&B 18 & Under
Open C
Open B *
Open A $
250 C
250 B
250 A $
450 C
450 B
450 A $
30 C
30 B
30 A $
40 C
40 B
40 A $
50+
Women 85-250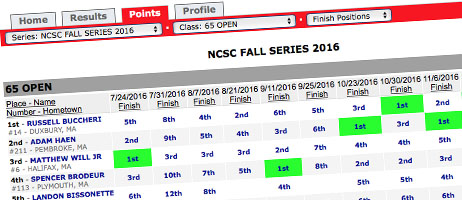 New NCSC Trackside results page
Check out the new results page powered by Trackside, it's searchable by event, racer name or number. Click here to see all the stats.


Important notice about number plates
All motorcycles must have number plates, upright, clearly visible and legible when in a riding position and securely mounted; they consist of a front plate and side plate on each side.
Your N.C.S.C assigned number, in plain block numbers, with the appropriate color combinations must be used.
Fluorescent numbers and or backgrounds are not allowed. Fancy designs, outlines and or shading of numbers are not allowed.
All numbers on a motorcycle must be minimum of six inches tall, except for 50cc and 65cc class, they can be a minimum of three-inches tall.
Numbers may not touch or overlap on number plates.
Illegible numbers can result in either improper lap scoring or no scoring for the race. It is the riderís responsibility to ensure scorers can easily read his official NCSC number.

Number Plate Colors are:
50cc+ 60cc and Novice (C) - Black background White numbers
Amateurs (B) - Yellow background Black numbers
Expert (A) - White Background Black numbers.
Penalties will be assessed for wrong colors.


250 2-stroke rule update
250 2 Strokes are allowed in the 250/450/Open classes.
250 4 Strokes are allowed in the 250/Open classes.
250 2 Strokes are NOT ALLOWED in the 125 Youth classes.

General info
Member Event Entry $35 per Class
Gate $15 General Admission under 4 Free
Gate opens Night before Event 4-10pm
Gate opens Day of Event 6:30am
Sign up is 6-7pm Night before, Day of 7-9am
Practice starts at 9am - Racing follows practice
NO STARTING OF ANY MACHINES BEFORE 9:00 AM